You're at:


Where the world goes slightly askew!
Not So Great Adventure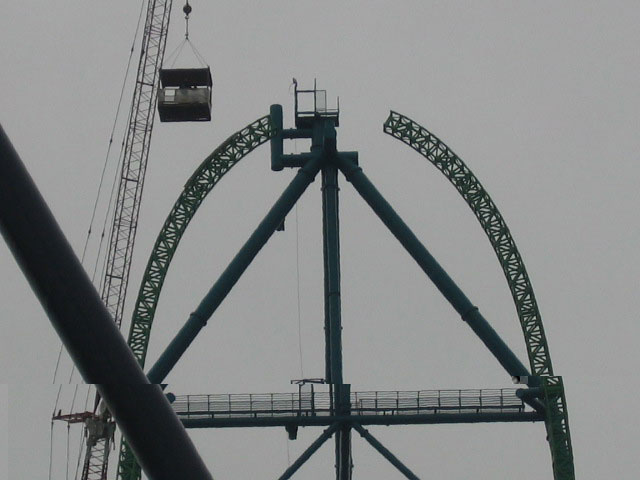 As the township of Jackson, New Jersey, watches the world's largest roller coaster gradually pieced together, the new thrill ride at Six Flags Great Adventure is already drawing a fair share of screams -- from its detractors.
"Outrageous," says Ferris wheel enthusiast Mark Carmelo. "Two completely different rumor sites had unnamed sources write in that the park's next major addition would be the East Coast's response to Disney California Adventure's Sun Wheel. Instead we get this bleeping garbage. Boo on Six Flags."
Toting around one of the many "Kingda KaKa" and "Save Ferris" sandwich board signs, American Gondola Enthusiasts vice president Alice Sanchez joined a dozen fellow club members in picketing the park -- even though their dissident chants were mostly ignored by passing construction and maintenance crew workers as the new season is still four months away.
Park officials are stumped because the regional amusement park operator insists that it never promised enthusiasts a new rotating Ferris wheel attraction. AGE's Sanchez argues otherwise, claiming that her group had already squared away a club event with the Great Adventure for August that would include a picnic lunch buffet and exclusive ride time on the Ferris wheel.
"We already sent out the event flyers," Alice argued. "We were promised potato salad and saltwater taffy. We were assured that we would receive two hours of ERT with the lights out after the park closed to the day guests -- with the wheel running clockwise!"
Kingda Ka is set to be the park's new iconic scream machine when it opens for the 2005 season. Catapulting riders 456 feet into the sky at 128 miles per hour, the record-breaking roller coaster was expected to draw more than the 2.8 million turnstile clicks generated by the popular amusement park in 2004. That optimism is now in doubt. While the park's 150-foot Big Wheel has always been a top draw for Ferris wheel enthusiasts -- it's where Mark popped the question to his high school sweetheart before she crushed his fragile heart -- fans were hoping for something more out of a park that already had a dozen roller coasters in what many figured would be The Year of the Ferris Wheel.
"Coasters are dull and predictable," Mark said. "After the first ride it's always the same unless you gray out along the way. Ferris wheels rock, in more ways than one. That swooping action never gets old and you just never know when your ride will come to an end."
Alfred Vee, who together with his wife Melissa sell DVDs of daring onboard ferris wheel riding footage coupled with slapstick antics set to classic ragtime piano ditties, was also visibly disappointed.
"You can scratch Great Adventure from our 2005 summer itinerary," Al said. "Bullocks! I'm off to Coney Island."